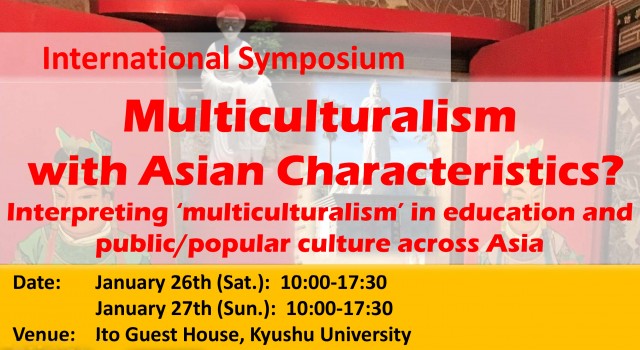 Multiculturalism with Asian Characteristics?
Interpretations of 'multiculturalism' in schooling and public/popular culture across East Asia
This event is organized by the Kyushu University Taiwan Studies Program, with the support of Kyudai's Progress 100 scheme. A particular aim is to promote Kyudai's new institutional partnership with National Taiwan Normal University. We also have two speakers from La Trobe University, with which Kyudai is also developing a strategic partnership.
You are warmly invited to attend all or part of it. And please forward this information to your colleagues and students, and encourage them to do the same. We would appreciate it if you could register beforehand, simply by emailing Wan Yi on <
wan.yi.338@m.kyushu-u.ac.jp
>