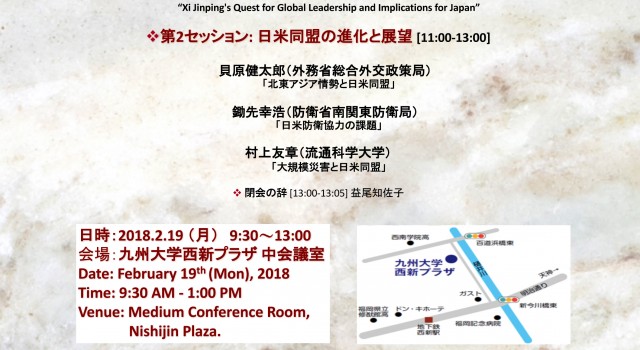 Workshop on Japan's security environment
Venue: Nishijin Plaza
Time: 0930-1300
Guests from both from Japanese MOFA and Defense Ministry. Tosh Minohara of Kobe University is also joining us.
The first session will be conducted in English, and the second session in Japanese. Questions and comments can be raised in both languages.
You can download the PDF copy of the workshop poster here.
Please contact Chisako for more information.
益尾知佐子 Chisako T. Masuo, PhD
Associate Professor
Faculty of Social and Cultural Studies
Kyushu University
九州大学比較社会文化研究院 准教授
Motooka 744, Nishi-ku, Fukuoka 819-0395 JAPAN
〒819-0395 福岡市西区元岡744
Office: +81-(0)92-802-5628
E-mail: masuo[at]scs.kyushu-u.ac.jp